Every Superhero has a weakness. For Superman it's kryptonite. For you it might be paper.
If it feels like you have everything organized and under control, except for the paper piling up on your desk or counter, you're not alone. Many of my clients let small piles of paper like mail, bills, or notes accumulate during busy weeks.
The key is making sure the paper from one week doesn't spill into the next creating a snowball effect. It's why I suggest scheduling time at the end of the week to work your way through small piles of paperwork. It takes less time than tackling a much larger stack of paper and helps clear your brain and reduce stress. Your brain never stops processing your environment. Seeing a stack of paper on your desk triggers your subconscious and can lead you to feel unsettled or anxious because it's a reminder of an unfinished task. It's why self-care starts at home.
Every Superhero has a weakness. For Superman it's kryptonite. For you it might be paper.
You can reduce stress by minimizing the amount of paper stacked up in your home or office. Here are three ways to tackle paper clutter.
Start small. If your towering stack of paper has developed a bit of a lean and is in danger of falling over, remove the top inch of paperwork and make that one inch your priority to organize. Work your way through the pile an inch, or maybe even a half inch, at a time. It might feel like you're not making a dent at first, but you will make progress if you start small and keep going.
Set a timer. For smaller piles of paper, set a timer for 10-15 minutes. Do your best to get through as much paper in that time as you can. Try to minimize your steps around your home or office by sorting the paper in front of you and putting items away after you've made it through the entire pile. When you start spider-webbing around the house, you increase the likelihood you'll get distracted and move on to something else.
Commit to functional. The goal in any organizing project is to make your space more functional not perfect. If you strive for perfection you're more likely to quit before you ever get started because it's an unrealistic goal.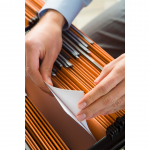 It takes time to develop good habits. Stick with taking small steps and you'll reap the rewards in the end. I can't promise you'll ever love or embrace paper but having a plan for organizing and filing can help you get back to feeling like your superhero self.
If you have an organizing project you don't want to tackle by yourself, send an email to me at Linda@UnclutteredNW.com and let's talk about how my team can help.