Many of us lead busy, stressful lives. Sometimes things can become overwhelming and you are left wondering how you can gain some control back. Here are 5 easy and achievable steps you can take…
Put it away, don't put it down
A simple rule or mantra you can live by is "put it away, don't put it down." How many of us stare at a cluttered countertop wondering how it got like that. The methodology behind this phrase is simple, but creating that habit can be tough. It's simple, you use ingredients to cook with? Put them away after you've used them. You've drank your morning coffee? Put the cup in the dishwasher instead of the countertop. You just tried on a shirt but don't want to wear it? Hang it back up and don't throw it on the floor. Small steps can lead to big changes.
Press the reset button every night
Before you go up to bed, do a sweep around your common areas. Fold the blanket back on the couch, turn the dishwasher on, wipe down the countertops, pick up any stray items and put them back where they belong. You may be tired, but your future self will thank you for it. It feels so much better starting a day with a clean and picked up home.
Write it down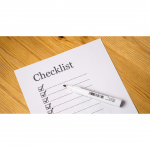 Writing yourself notes or lists helps you stick to the things that you need to do. Be sure you don't overwhelm yourself either. There is no point in writing absolutely everything down as it will just lead to things not being completed and you feeling defeated. Try to keep it to one list and not on scraps of paper as those are easily misplaced. The best part of writing it down is crossing it off!
Prep and Plan
If you feel like you can do a little meal prepping and grocery list prepping, then great! It will definitely help you in the long run. Again, none of this is meant to overwhelm you, so if it seems like it's too much then skip it for now. You could start small and just prep school/work lunches the night before and what you're going to eat for breakfast. If you are a busy family with a lot of extra curricular activities, then coming up with a meal plan for the week can really help, and yes, that can include eating out too.
Cleaning on a Schedule
Busy lives and busy schedules means we have very little time for basics like keeping the house clean. Some find it helpful to keep their cleaning on a schedule. For Example, Monday is kitchen cleaning only, Tuesday is bathrooms, Wednesday is bedrooms, Thursday is dining room, Friday is playroom, then on Sunday it could be washing/changing bed sheets and vacuum all over the house. Again, this may not work for everyone so you have to find something that would fit in with your life and your schedule.
These tips and tricks aren't meant to be exhaustive. Finding what works for you and your family is key. Above all else, give yourself grace.
If your home organizing project feels to big for one person, it could be time to talk with a professional organizer. Let's start the conversation! Send an email to me at Linda@unclutterednw.com and we'll schedule a time to talk about what's on your mind.