Organizing your closet, guest bedroom or garage might seem easy enough. Sure, it's a mess now because you haven't had the time to deal with it. As you find time it will be different.
It's easy to think setting aside a day or a weekend to get organized is all you need. But the truth is, there are some things you just shouldn't DIY. This is especially true if you're already stressed, overwhelmed, or frustrated. Sometimes investing more time in an organizing project isn't as helpful as investing money into it and hiring a professional organizer.
It's easy to think setting aside a day or a weekend to get organized is all you need. But the truth is, there are some things you just shouldn't DIY.
If you've never worked with a professional organizer let's demystify the process so you know what to expect from me and my team.
First things first. We'll schedule a phone call before scheduling time in your home. During that call we'll talk through your project and get a sense whether we connect well and are a good fit for your project. It's important to find an organizer you enjoy working with otherwise you'll dread the process, even if the organizer is very talented or comes with great recommendations from your friend.
After we've talked through your project, we'll schedule an in-home consultation. That's when we walk through your home together. It's a chance for me to see the space and start coming up with ideas for solutions. This step can cause a little anxiety but don't worry or be embarrassed. There's nothing my team and I haven't seen before. We want to see it "as-is" so we can determine the best systems and solutions.
The next step is to start organizing. I'll want to schedule a minimum of three hours with you because it gives us time to really jump into the project, get things organized, clear things out and leave the space better than we found it. We don't want to leave piles of stuff all over the house because that's not productive and leads to more stress.
We can do all the organizing and clearing out together, but if you wanted to work ahead there are a few things you can do before the project starts.
Remove trash and recycling. Cutting down cardboard boxes, for example, can clear space to work and provide a sense of accomplishment before we get started.
Purge unwanted items. It's helpful to do this before my team starts formulating a plan and suggesting systems. Plus, it's hard to downsize, clear out rooms or organize if you're working around stuff you don't need. My team can help you make decisions if you get stuck and aren't sure what to keep. Remember, a good organizer will be part of the process but won't purge or downsize things without you.
Schedule a trip to a donation site. Give yourself more space to work by donating items you know you don't want any longer. You might end up with another pile of donations after working with my team but removing even a few items or boxes at the beginning can help you get started.
At the end of the day, you can be as active as you want during the process. An organizer is there to help you make decisions and offer solutions that allow you to reclaim your space.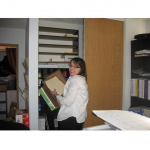 I've organized and managed projects for more than two decades. I'd love to hear about your project. Send an email to me at Linda@unclutterednw.com and let's talk about what's on your mind.